Returning
Submitted by bethdirt on Sun, 09/21/2008 - 12:47.
There are so many reasons I love to garden, the satisfaction of a design being in my head one day and the execution of it several days or weeks later depending on the intricacy of the job. It is also intensely satisfying to go back to a job a year later and see how it is all filling in.
I could not be happier with one particular job that we did last year in Riverdale, in Downtown Toronto. This garden is full of different textures. From the furry leaves and orange blossoms of the poppy to the deeply viened leaves of the white raspberry bush. I also love the simplicity of the stone work.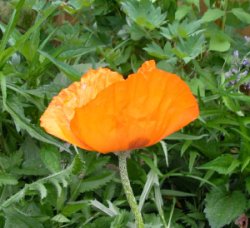 I get really excited when a customer says that the they no longer want any grass......all garden :) mmm I love that challenge, starting from scratch.
In this garden we did just that. We spent 6 days just clearing the land. Unbeknownst to us when we began this garden it had a VERY well established crop of Campanula whose roots reach very far down into the soil. If we didn't take the proper time to get rid of it would just keep coming back no matter how many times you pulled the top foliage off.
While we were busy weeding a fence was being erected all around us and the screenings were being wheel-barreled in for the little flag stone sitting areas. Once we had all of the luscious poopy soil brought in, we were planting up a storm. We definitely had to put down mulch to help with the customer's lack of time to weed and water.
We had one other challenge, the property line. If we were going to put in a fence it only gave the person entering a 2' walkway. If you can believe it, the next door neighbour gave an 8 foot long by 18 inch wide piece of her property to this customer. She basically said "My grandparents bought this house, and both my mother and now myself have lived mortgage free for all of our lives, so why not?" It was incredibly generous of her. As a way to thank her, we made a garden bed on her side of the fence, and divided all of her 50 + year old Peonies and Irises and replanted them.
Well, what are you waiting for? go look at this year's pictures!
Take care
Beth